Wedding Planning…am I right??
Some people love it and some people… well, some people just straight up hate it! For those of you on the fence, I'm here to help because I'm one of those ones who loves it! I mean, I would be lying if I said the whole thing was a cake walk- lets be real, I shed some tears while planning my own- but all in all I loved it, and I suppose that's what led me to this career. Whether you're at the beginning of planning, in the thick of things or have already been married, there is something in this post for you! The overwhelming process of planning a wedding is enough to make a person crazy- hence the dreaded (and mildly misunderstood) term "Bridezilla" all brides hope to avoid! For this reason, I decided REAL brides needed to hear from other REAL brides and professionals in the wedding industry. Not only for tips and insight but for the comforting feeling of knowing that you are not alone in this!
For this blog post, I caught up with some LQ Events' brides both past and present, some married girlfriends I have known for years and some pals in the wedding industry. I wanted to hear it from all sides! The pros and cons of planning a wedding, the stresses, the wins and of course the reasons a wedding coordinator worked (or could have worked) for their day! So grab a coffee or cocktail and dive in- I promise you will take something from this!
Image by Catchlight Photography
Jessica Sanchez, owner of Boutique Linen Rentals, weighs in on wedding coordinators and some tips to finding a rental company for your big day!
Image by Moon and Marble
What are some pros and/or cons to working along side a wedding coordinator as someone who owns an event rentals company?
"They have a view of all of the working parts of the puzzle. For example, I once provided centerpieces for a wedding that was using regular long tables (30" wide) and although I thought the greenery would look best as a garland with the candle holders along the table, the coordinator was able to make the decision to keep the centerpiece in clusters as to save space since she knew that the meal was being served family style.
The above example also shows how experience plays a factor. Yes, a bride, MOH or MOB can make a decision but an experienced coordinator can see how it would affect the flow of the event.
From a vendor's perspective, I like working with coordinators because it is a point of reference for me. I don't need to bother the bride with unforeseen circumstances while she is getting ready or while she is having her first look. Having a Coordinator there ensures questions and decisions are answered or made right away, thus not delaying other vendors."
What are some tips for Brides trying to choose a rental company?
Find out any extra fees they may have. Some have a fee for same night tear down, etc.

If you are renting chairs, tables, etc find out who is setting them up. Some rental places just drop off these items and then it's up to the couple to arrange for set up and tear down.
Any additional tips or tricks to consider when planning?
"Always have a rain back up and discuss it with your coordinator and vendors. As a decor company, some of our items cannot be set up outside due to risk of damage to the items or personal injury to our staff. Have an alternative plan for these items in your decor plans so you are not paying for them and not using them."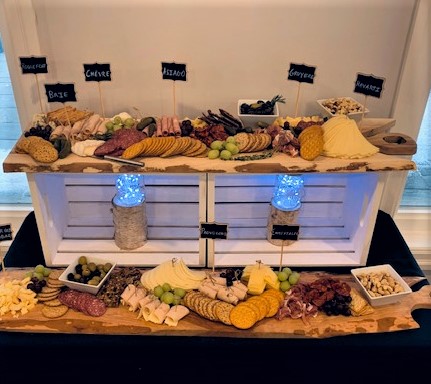 Kiera Grinyer, V.P of Cater Me Please, gives her view on working with wedding coordinators and shares some insight to choosing a caterer for your special event!
What are some tips for couples choosing a Caterer?
"Be specific on what you're looking for menu- wise. We have experienced chefs who work with us to create the perfect menu for your event! Don't be shy when speaking with your caterer about your wants and needs and if they aren't flexible- move on to the next!"
How do you feel about working alongside wedding coordinators when booking catering for a couple?
"I love it. Having the extra hands, knowledge and a schedule is always an asset!"
Does a coordinator take any stress off of you as a catering company during the planning process and/or on the day of service?
"Definitely! Having a properly updated schedule to follow throughout the day is always helpful! As we all know, weddings never run on time, so having someone on top of that always helps for everyone!"
Do you, as a vendor, think hiring a wedding coordinator is worth the investment?
"200% yes! The less you have sitting on your shoulders, the more you can focus on your special day and enjoy every moment!"
Linda Charbonneau shares how she feels about vendor relations in the wedding industry and her tips on choosing the perfect photographer for your event!
Image by Catchlight Photography
What are some tips you have for choosing a wedding photographer?
1. Get recommendations! This is a great starting point. Take a look at the wedding albums of your recently married friends and relatives. If any of them really speak to you, ask for their photographer's details and find out if they liked working with them. Your wedding coordinator has also worked with lots of photographers and can help recommend one to suit the style of your wedding.

2. Get a good idea of their style. Look at their portfolio and see what types of photos they like to take - what angles they use, what types of locations they like, the posing, the mood, the lighting and their editing style. Do they fit with the vision you have for your wedding photos?

3. Meet in person! Or at the very least over the phone if you're not in the same geographic location. This is the person that will spend the most time with you - apart from your new spouse - on the most important day of your life. You want your personalities to be a good fit! The right photographer for you will make you feel comfortable and the only way to know if they will is to meet them in person.

4. Ask them to bring a full gallery from a past wedding to your meeting. Their portfolio or social media feeds will likely only show wedding highlights but seeing a full wedding gallery will give you a good idea of all the details and moments they will capture over the course of a wedding day.

5. Do an engagement shoot! Once you've settled on a photographer, I highly recommend using them for an engagement session. Even if you think you have no use for engagement photos, they are still a great idea because they are basically a rehearsal for your wedding photos. They are a chance for you and your photographer to get to know each other and for you to get comfortable in front of their camera so that once your wedding day comes, you'll be more confident and happy and will end up with pictures you love!
What do you feel are the benefits to hiring a wedding coordinator?
"If the thought of playing endless rounds of phone tag and sending email after email to a long list of vendors for your wedding sounds incredibly stressful, then a wedding coordinator is for you! Coordinators handle the leg work of your wedding prep, doing research, making calls, sending emails and remembering details so that you don't have to. They also have valuable contacts in the industry, which really helps smooth out the whole planning process because they already know where to turn for everything you need to make your vision a reality!"
One of my best girlfriends recently got married in Mexico and has A LOT to say about her experience! If you're curious about destination weddings- keep reading!
Image by My Wedding in Los Cabos
What stresses did you face during your experience planning your destination wedding?
"Being so far away from it all, it was very stressful not being able to see my venue, decorations and set up. I didn't know if the cost was worth it for a lot of the decisions I had to make. The wedding coordinator really helped alleviate this stress."
How did your coordinator make the planning process easier when living so far from your wedding location?
"As a self-proclaimed control freak, it was really hard for me to come to terms with planning my wedding through photos only. My coordinator really made me feel comfortable with my decisions. She didn't simply agree with everything I wanted, she gave me some concrete advice and I trusted it was from experience. She outlined the pros and cons of every decision I made and helped me make informed choices."
Any tips for couples planning their destination wedding?
"Do your research! Look at things like weather patterns, resort reviews and compare the costs. Look for hidden costs as well. Although a lot of resorts are all inclusive for your stay, you are still looking at costs per head for your reception (if you decide to have one there). Trust your coordinator because they will be your best friend through the process and they know best. Most of all, ENJOY IT....the whole point of going down south (or away in general) is to relax!"
What stresses did your coordinator take off your hands on the day-of?
"The resort I chose was a well-oiled machine! The day I met with the on-site coordinator was the first day we arrived and made everything so much easier. Meeting with her alleviated all my stress, she made me feel comfortable with all my decisions and gave me a full itinerary for the day of my ceremony. I was able to meet with the photographer as well. I felt like I had a team behind me to make my day special. Not only was I stress-free on my wedding day knowing she knew what I wanted but it made the rest of my trip relaxing and I was able to enjoy my guests."
If you would go back, would you change anything?
"I would do more research on my travel agent. This was a big part of the destination process and I went with the first one I found which turned out to be one of the biggest stresses for my wedding. Again, I would recommend doing your research here too. The travel agent will be working with all of your guests on some level and it's important to remember that it's a vacation for them too so you want the booking process to be easy and painless for them."
Any final thoughts?
"Regardless of where your wedding is or how you go about it, make sure you take a moment with your new spouse in between all the chaos to take it all in and really enjoy it. A wise friend of mine once said: "This is one of those times in life that you get to embrace it being all about you, enjoy it!" " *I may have been that friend- just sayin!!
I had the absolute pleasure of being a guest at this seriously amazing wedding at the Riu Palace Cabos San Lucas. Although Kelly had some stress leading up- everything came together perfectly and the entire group (OF 65 PEOPLE!!) had the best week ever! Side note: the margaritas were fab too!- LQ
A current LQ Events' bride who is deep into planning her June 2019 wedding spills on the planning process!
Image by Kendra Ruth Photography
What made you decide to hire a month/ day-of coordinator?
"We decided to hire a day of coordinator because we saw how overwhelmed and stressed everyone became on the day of my Fiance's sisters wedding and I really did not want our families/friends and even us to feel like that! We wanted everyone to enjoy the day stress and worry free! We really wanted help setting up and taking down the decorations and handling any last minute issues that would come up. Ideally we really wanted someone to handle the day so we could enjoy!"
What stresses did you/ are you facing as you navigate the wedding planning process - do you think having a coordinator for more than just the day- of could have helped in any way?
Some stresses we are facing are:
Communication/responses from vendors: "Some vendors are more responsive than others. It becomes frustrating when weeks go by and you are still waiting on responses from vendors on quotes or contracts etc. The constant following up and waiting for answers can get tiresome. A coordinator would be so helpful in this area especially with the constant following up if you have a busy work life! Planning a wedding is a like a 2nd full time job!"
This is something a lot of Brides and Grooms don't realize until they are in the thick of things- A wedding takes approximately 250 hours to plan so always be sure you have the time to take on this "second job" before you nix hiring a Wedding Coordinator - LQ
Finding a venue: "We had a lot of trouble finding a venue that was unique and our style that would accommodate under 100 guests. We really didn't want a banquet center or hotel conference space. I spent a lot of time doing research and reaching out to venues to finally find one that was perfect for us! A coordinator could do all this leg work for you and send you the options that are out there to meet your needs! It would be a HUGE time saver"
Scheduling - "We haven't quite gotten there yet but we are starting to think about the schedule of the day and it's already stressing me out! Hiring a coordinator that has experience with this and is able to assist you will put your mind at ease knowing the day will run smoothly!"
Luckily, Amanda has a coordinator on her side to assist in creating the perfect schedule for her day!- LQ
Any tips for brides planning their wedding?
If you are planning to have a wedding during "peak season" get started early! All of the top notch vendors get booked up very quickly and even years in advance! Planning ahead if you're a spring/summer bride is key so you get exactly what you want!

Make sure you have a legally binding contract with all your vendors! Don't take a vendors word for it! Anything can happen and you need make sure you are covered!

Don't go to too many bridal salons! You're going to get overwhelmed! Its so fun trying dresses on and being fussed over but I would try to limit you search to 3-4 salons! I only went to 2 and do not regret it!

It's your day! Do what YOU and your partner want not what everyone else wants!
Any final thoughts?
"My fiance and I always talked about having a destination wedding on a beach....we started looking into it and realized that a lot of the people we wanted there wouldn't be able to come.It was a pretty big disappointment when we realized what we really wanted wasn't going to happen. Every now and then we get a ping of disappointment but we know everyone we love will be there! Before your start planning, really sit down and make a list of what is important to you and your partner so your wedding is exactly what you want it to be without any regrets!"
"When it comes to the guest list I would suggest giving your families a limit of how many people they can invite or else it can get out of control real quickly! We gave our families a table each to fill with whoever they wanted that way we limited the people that we necessarily don't know. Why would you want YOUR wedding filling with people you don't know!?"
Stephanie Howell of Howell's Bakery, dishes about her super hands- on experience planning her lovely fall wedding and how much she wishes she had hired a wedding coordinator earlier!
Image by Matthew Scatterty Photography
First- off, a little background about this special bride! I had the absolute pleasure of assisting Cater me Please on this wedding back in October of 2018 and was blown away by Stephanie and her super hands-on (and absolutely lovely) personality. This girl took care of literally EVERYTHING on her big day- we basically had to push her out the door to get her hair and makeup done. Not only was she the bride that day- she was the creator behind all FOUR of her wedding cakes and about a gazillian cookies for her custom sweets table; it was seriously drool-worthy. If you haven't chosen your dream wedding cake vendor yet- be sure to check out Howell's Bakery. Okay, I'm done gushing! Take a look at what she has to say about her unique wedding planning experience!- LQ
Let's reflect back on your big day for a minute! Why did you decide to hire someone for day-of coordination after being so hands-on in your planning process?
"I wanted to be the bride who did it all by myself and make sure everything was 100% a true reflection of my husband and I. This plan was going great until about 1-2 months before the actual date. I started to forget things that needed to be done, planning a timeline was becoming near impossible and my day of was getting well out of hand. I was lucky enough that Kiera from Cater Me Please was also offering day of coordination services- which I had turned down months before. When I reached out to her to ask about adding it in, she asked about what sort of areas I'd need help in and within 5 minutes of talking to her, I felt my stress levels reaching normal limits again (haha). I knew I was making the right choice!"

What stresses did having a coordinator there on the day-of take off of your shoulders?
"Reflecting back on the morning of the wedding, things were NOT smooth sailing. Our venue had assured us of when we'd be able to get into the hall to start setting up and we planned everything around that time (including hair, makeup and photos). I sure got a shock when I showed up, morning of the wedding at 730am to start setting up and was told by a cleaner that I wouldn't be allowed in until 10am! Which is the time I had planned to be back to my mother's house to start getting ready with my bridesmaids and family. Knowing that I had my coordinator(s) there kept me level headed. I knew that they understood my vision and would be able to handle the setup without me. It really helped me stay relaxed and allowed me to get back home in time to enjoy the getting ready process (without worrying about all the details!)"
How did your coordinator contribute to the success of your big day?
"To add to what I said in the previous question- if I hadn't had a coordinator to help me on the day of the wedding, I would have ended up spending the entire morning and possibly the afternoon setting up tables, perfecting all the little details and I wouldn't have had time to get ready or take photos !! I can't imagine what I would have done without my coordinator. Not to mention that I don't think my husband and I would have eaten haha. We were so worried about everyone else getting food/ having a good time, that we didn't move to get food, and as if reading our minds, our incredible coordinator came over with heaping plates of food !!!!"
If you could go back in time is there anything you would have done differently during your time planning?
"I wish that I had gone to my coordinator earlier (instead of panicking and hiring her last minute). I think knowing that I had that backup would have helped me to relax a little more while planning and I might have been able to skip being at the venue the morning of, giving me more time to enjoy the getting ready aspect of the day."

Any other tips for brides in the thick of planning right now?
"The cost of a coordinator is well worth it. Having that extra set of eyes and hands is priceless, especially if that person truly understands your vision. Take time to find the right person to work with and trust them- they are the professionals. Let go of a little control as well and enjoy the process, it's a magical day that flies by, take the time to take it all in!"
A newly engaged LQ Events' bride chats about why she decided to hire a wedding coordinator and what worries she has for her big day!
Image by Olive Photography
Why did you decide to hire a wedding coordinator?
"While Matt and I love planning our wedding, we really wanted to ensure all bases were covered and definitely needed some guidance with things. Our situation is a bit unique, as we're in a long distance engagement (Toronto to New Jersey), so when Matt is in town (a couple weekends a month) it's go-go-go with vendor meetings. We want to be sure we're meeting with people who are the best fit for us/are going to offer what we want. We knew a wedding coordinator would make this possible by narrowing things down to fit our exact needs and wedding dreams! :)"
What are your main concerns and how do you hope having a coordinator can help ease them?
"The little details and the final countdown!! Just the thought of forgetting to do something or missing a detail on our wedding day is enough to send me into a panic right now (I've already had a particularly distressing dream about forgetting a guest book), so I know having a coordinator will be a massive weight off our shoulders on the big day and help us enjoy/relax as much as possible."
Scheduling and finalizing details are an Event Planners' biggest strengths! The whole reason you have us is so that you don't have to be the one to worry about the little things- like forgetting a guest book! These details and more are the things we will discuss and plan for during our meetings leading up to your big day! The end goal is for you and your partner to have the day you've been dreaming of since before you said YES!- LQ
To all of these lovely ladies- THANK YOU!
I appreciate the input of each of these wonderful women and hope that you enjoyed sharing in their experiences. I don't know about you but I ALWAYS love to chat about life's biggest adventures with my girlfriends and the people who have the experience behind them. To my past brides, I thank you for keeping in touch and letting me pick your brain. To my future brides, I am SO excited to work with you to bring your vision of your special day to life. To my industry friends, new and old, I appreciate the feeling of community this industry has and thank you for taking the time to share your views! Don't hesitate to comment your thoughts below or reach out with your own wedding planning dreams and questions!
What tips do you have to share? What was your experience like? Share below, I'd love to hear what you've got to say!
Happy planning!